Purpose
This post describes steps to create a new podcast so it can be hosted on the dharmaradio.org, listed on Blurry directory which allows us to get statistic, and make the podcast available on Apple and Google podcast This post does not cover how to prepare podcast files.
Overview
To publish a podcast, it consist of follow major steps:
Create a Category in Posts on the dharmaradio.org. This will be the name of your podcast
Add Category to PowerPress podcast plug-in
Upload podcast files to dharmaradio.org
Create and publish one podcast post of the new podcast
List the newpodcast in Blubrry, and get your streaming proxy info
Update dharmaradio.org podcast setting with podcast proxy info
Publish podcast on Apple podcast
Update Destination URL
We'll now cover each steps in detail
Creating a Category in Posts
Go to Posts -> Category
And create a new category. The name of the category becomes your podcast name.
The slug will become the URL to your podcast so you'd want to make it unique and easy to recognize. The description will be pulled into Apple, Google, Blubrry service so you want to be mindful about that. It should include reference to DRBA. This can be updated later.
In this example, we create "A Testing Podcast" podcast.
Add Category to PowerPress
PowerPress is a podcast plug-in developed by Bluburry. We'll add the Category we created to the podcast list
Go to PowerPress -> Category Podcasting
Select the category you created for your podcast from the "Select Category" dropdown menu, and then click "Add Product Setting to Category Feed"
You'll then see screen as follow
Set copyright in the Feed Settings
Add cover art
Click on the Feeds to update required info
Apple settings
Upload Podcast to dharmaradio.org server
Let dharmaradio.org admin know about the podcast slug you used above, share your podcast files with the admin ( at least one episode ), and he should create a folder on the server as follow and upload your podcast files there.
/dharmatalks/[podcastslug]
Create and Publish One Podcast
Go to Posts and Add New.
Update Title and add Descriptions. This is what people will see on the dharmaradio.org when they come to to the podcast home page. This is one example: https://www.dharmaradio.org/2022/04/23/ep8-33-七十四世了堂鼎徹禪師/
Update Media URL. This is URL to the podcast media file (usually a mp3 file ). The URL should be as following:

https://www.dharmaradio.org/dharmatalks/[podcast-slug]/[podcast-file-name]
Using our Test Podcast as an example, if the first episode file name is a-testing-podcast-ep1.mp3, the URL will be:

https://www.dharmaradio.org/dharmatalks/a-testing-podcast/a-testing-podcast-ep1.mp3

Click "Verify" to check the URL is valid.
Select your podcast category from the Category dropdown menu



Also select your category on the Category on the right



Click "Publish" on the top
List the new podcast in Blubrry
Go to PowerPress -> Category Podcasting
You'll see a list of podcasts. Click your podcast. You'll see image as following.
Click on Feeds. You'll see screen as following:
Copy the RSS feed URL. This is what you'll need to add podcast to the Blubrry.
Sing-in to https://blubrry.com. Login is dharma[email protected], contact [email protected] owner for password.
Click "Add Show" on the left
Click "Get Statistics" in the following screen:
Select "Create a new podcast"
Enter podcast info and click "Continue"
Copy the media redirect URL info in the following screen:
Go back to http://dharmaradio.com/admin, PowerPress -> Category Podcasting -> your-podcast -> Other. Enter the Media Redirect URL from the Blubrry into the "Media Statistics" box, and Save Changes.
List Podcast on the Apple Podcast
Contact [email protected] to get login for https://podcastsconnect.apple.com/ and login to https://podcastsconnect.apple.com/. Our login is [email protected]
Click on "+" to create a new show for your podcast
Select "Add a new show with RSS feed" and click Next
Enter the Feed URL you got from Feed Setting into the RSS feed URL box and click Add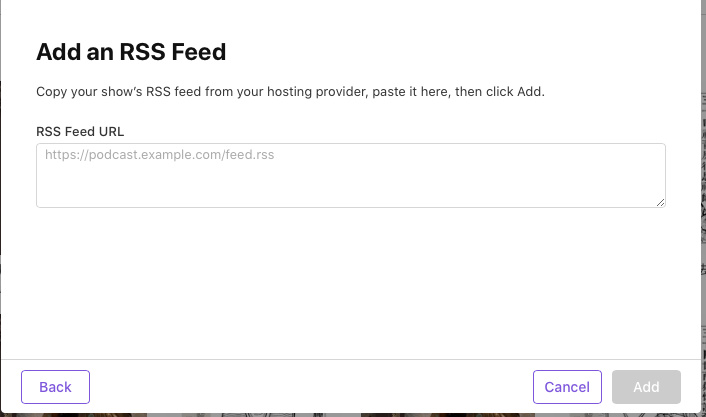 Update Content Rights and contact info as following:
At this point, Apple Podcast will be processing the feed info. Wait a few hours to come back to the same page to see if any additional info is needed, then you'll be able to publish.
Click "Save Changes" when you complete all the setting changes.
Update Destinations
After podcast is published on Podcast, come back to the "Destinations" tab in your podcast to update destinations. We usually update only Appl, Google, and Spotify.